An invention patent of waste heat boiler of Haichuan Engineering Company Won the 8th Anhui Patent Excellence Award
Read : 70  |  Release Time : 2022-09-28
Recently, Anhui Provincial Market Supervision and Administration Bureau issued the eighth 2021 invention patent award, among which one of our company's invention patents, "waste heat boiler", won the Anhui Provincial Patent Excellence Award.
Since March 2021, the 8th Anhui Provincial Patent Award has received 858 applications for evaluation. According to the Measures for the Evaluation of Anhui Patent Awards, the Anhui Patent Award Evaluation Office has organized and completed the formal review, preliminary review, expert review, determination and publicity of the declared projects through online application, recommendation, evaluation, determination, publicity and other procedures for more than five months. The 8th Anhui Provincial Patent Award is guided by high-quality development and based on market demand and efficiency, focusing on core patents formed in basic research, application basic research, key core technology tackling and other aspects. The award-winning projects of this year cover the patent projects of Anhui's leading competitive industries, high and new technologies, and intellectual property rights with high level of transformation and application, high degree of marketization, and good economic benefits. The selection and award of Anhui Patent Excellence Award highlights the positive contributions made by our company in terms of innovation and creation, promoting enterprise quality and efficiency improvement, transformation and upgrading, vigorously cultivating high-value patents, and helping the growth of strategic emerging industries.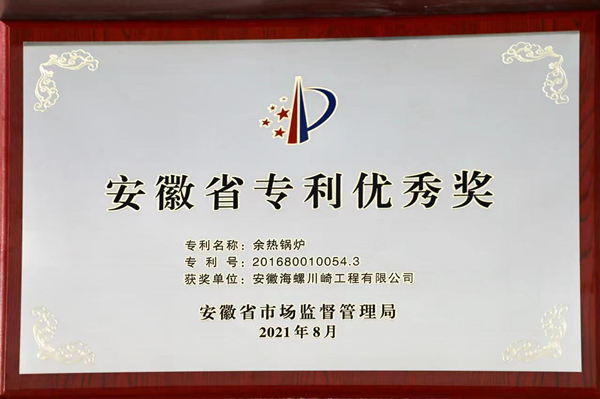 The patented technology awarded by our company is mainly applied to the kiln tail boiler of cement kiln. It was developed in 2016, and the first boiler was put into use in 2017. Up to now, the boiler heat exchange tube has basically no ash deposition. Compared with the traditional horizontal boiler and other vertical boilers in China, this invention has achieved a weight reduction of more than 30%, and can ensure high heat exchange performance for a long time. After years of promotion by the company, more than 40 projects have adopted this invention technology for kiln tail boilers, which has achieved significant direct economic benefits for our company.